Personal Injury Attorneys
in Baltimore, MD
---
Being charged with a crime is serious. It can affect your ability to rent an apartment, get a job, and apply for loans with the bank. Turn to Mobley and Brown, LLP when you need an experienced criminal or personal injury attorney in Baltimore, MD. Our team of legal experts has the resources and knowledge of the law to help you through this trying time in your life. We care about our clients and are focused on getting you the best results possible.
We examine every part of your case, dissecting it from every angle. There may be details hidden in your case that can help you, and we want to make sure the facts are brought to the court's attention. Facing a criminal charge is scary and overwhelming, but you do not have to go through it alone when you work with a criminal defense lawyer from our firm. Call our practice today to schedule a consultation. We also offer expertise in the areas of:
Personal Injury
Business Law
Trusts & Estates
                                  Criminal Lawyer
Know Your Rights
---
It can be tempting to take the first deal that is offered to you, but an experienced attorney can tell when prosecutors are only offering you a deal while there is little evidence to support their claims. Our lawyer has studied the law extensively and makes sure that the only decisions made or accepted are those that are in your best interest. For over 20 years, Mr. Brown and Mr. Mobley have dedicated their lives to the well-being of their clients. Each is a passionate and experienced criminal defense attorney you can rely on to approach your case with the respect and professionalism it deserves. The legal system is very complicated, and it is crucial you have an attorney who knows the law inside and out. The way facts and evidence are presented are sometimes just as important as the facts and evidence themselves. Rely on our attorneys for exceptional legal representation, whether you are in need of a personal injury, business law, or estate lawyer in Baltimore, MD.
                    Criminal Attorneys
On Your Side
---
We know how stressful a situation like this can be. You do not know what the outcome will be and waiting to hear a verdict can seem like a never-ending process. Know that when you work with us, we are not just your criminal defense lawyer; we are also your biggest advocate and confidant. We are here to help you in any way we can. Stop by our office and discuss your case with our attorney. Whether you have been charged with burglary, need help navigating the laws regarding your estate, or are looking for a business law attorney in Baltimore, MD, we are committed to providing you with the best legal services possible. Discuss your case or situation with our lawyer over a free consultation.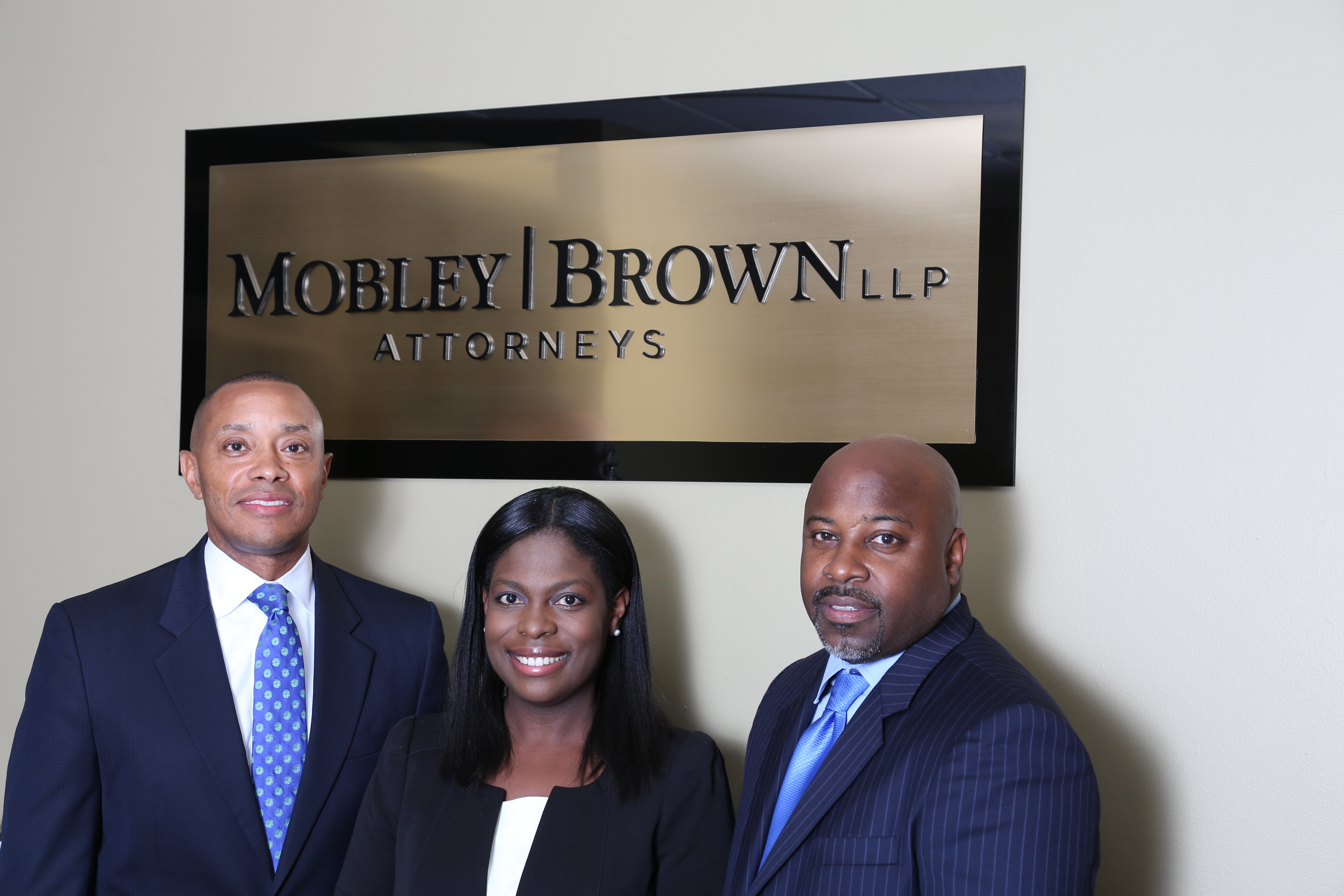 What our clients say
Client Testimonials
---
Our clients love us! Check back soon to see their comments.
Only the Finest
Meet Our Attorneys
---
When charges are levied against you, you need the legal services of an experienced legal team. At Mobley | Brown, LLP, you can rely on us to provide you with competent, aggressive, and trustworthy counsel. Our law office in Baltimore, MD, is dedicated to the success of our clients. When you come to us for help, know that your case is in the hands of experienced attorneys and legal professionals.
Request a free
Legal Consultation
---
Contact our firm to set up an appointment with our criminal attorney. We proudly serve residents in Baltimore, Baltimore City, Towson, Owings Mills, Dundalk, Maryland, as well as those in the surrounding areas.